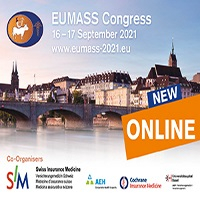 Update from January 15, 2021
It remains uncertain whether holding large events on-site will be feasible in the coming months. For this reason, the SIM Board, in consultation with the EUMASS Executive Board, has decided to hold the EUMASS Congress 2021 from 16-17 September 2021 purely ONLINE (NEW 2 days). A difficult decision - had we all preferred to exchange with each other. But the safety of all congress participants comes first.
Further information on the programme and registration for the online programme will be published on the EUMASS Congress website at www.eumass-2021.eu towards the end of February 2021.